These are Stand-a-lone products that are available to Non Dealer Members, you do not have to have a membership to purchase these.  Expand your Knowledge & Skills  through Continued Education.   All of these are available to Dealer Members as part of your Membership, another reason to join our ranks of Sales Professionals.  Make your selections, add them to the cart and Pay with a Credit card Securely through PayPal.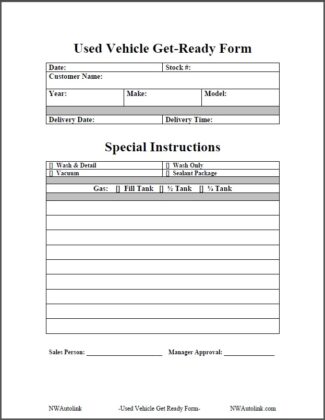 Used Vehicle Get Ready Form
Fill this form out when you sell a Used Vehicle, it gives your lot staff instructions on what to do and when you need it by.
Using this form will clear up any confusion as what needs to get done to get the vehicle ready for delivery.
Form Details »
"Let NWAutolinks revolutionary training keep you focused and moving forward."
"Utilize our unique Virtual Training Sessions to increase your knowledge and stay ahead of the competition."
"With our online training content you can increase your skills, stay motivated and gain knowledge at anytime from anywhere."