Features
7 Segments
40 Lessons
23 Quizzes
227 Questions
41 Audios
Training Certificate of Completion
Lifetime Access to the course
Target audiences
All Sales People
Assistant Managers
Managers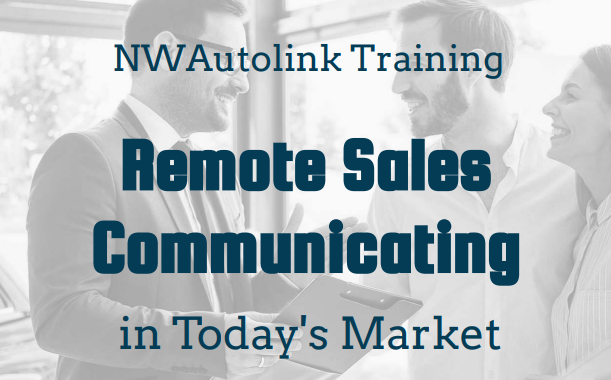 Remote Sales Communicating in Todays Market
Times are changing, and they are changing fast.  And as sales professionals, we need to find innovative ways of staying ahead of the curve to insure that we can still deliver exceptional service to our customers.  The buying process is morphing into a different creature, and if we don't adapt to new ways of communications as a standard, we will be left behind.
We will still have customers coming into the dealership to conduct business, look at cars, take test drives and a lot of the standard things that we are used to in this field.  However, the customers of today are changing the ways that they want to conduct a large portion of that business, and that is REMOTELY.
This course will go over some of today's communication challenges utilizing some remote tools, things to avoid, things to be sure that we do, and how to do all of this at a level that the customer is comfortable with, and still allows you to give them the "Wow Factor" in your selling.
Some Areas that will be Covered:
Phones
Emails and Structure
Texting
Audio & Videos
Personal Branding for Success
Social Media and it's Impact
Remote Customer Service
So we need to look at, and get our Remote Skills in line, we need to make sure that we are up to date on how they work and how to communicate with them.  Today's current conditions have forced many dealerships to adopt Remote Style Communications, and to do it overnight in order to stay competitive, the ones that don't have felt the ramifications of that choice.
For the past few years the industry has been slowly going in that direction, but today, it seems it is in full swing.  We will cover some ways that salespeople can connect with customers remotely and Virtual Sell their customers.
Included in this Course:
7 Segments
40 Lessons
23 Quizzes
227 Questions
41 Audios
Training Certificate of Completion
It's TODAY & Tomorrow is ALREADY Here!
The "Remote Sales Communication in
Today's

Market" Course will be Available to you in your Course Profile
Review or Take it as many times as you like
(You will have Lifetime Access to the course)