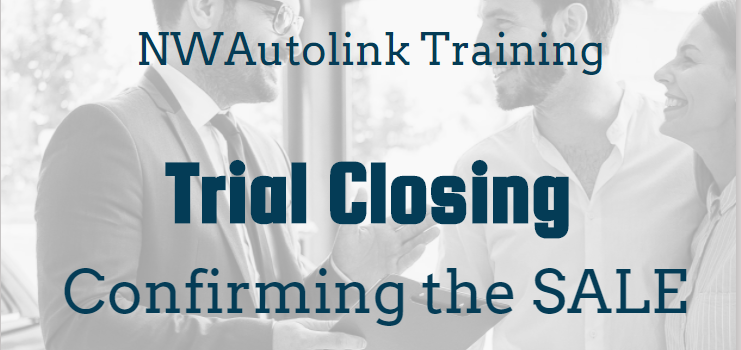 Why use Trial Closes?
We need to start putting the final touches on our sale, make sure we didn't miss anything that would prevent us from closing this deal.
That's what the Trial Closing Step is for, we are confirming or reaffirming the selection of the vehicle the customer is test driving, making sure this is the one…
Trying to determine when you should actually start to close your deal can be troublesome for some sales people.
When is the best time?  How should I do it?  How do I know that I am ready to start closing.  That's where the Trail Closing comes in into play.
You have some foundation work to complete before you even attempt a Trial Close.  Remember, you have to earn the sale first.
Included in this Course:
5 Training Lessons
1 Work Sheet
1 My List – Trial Closes
1 Quiz (15 Questions)
The "Trial Closing" Course will be Available to you in your Course Profile
Review or Take it as many times as you like during the course period
(You will have Access to the course for  26-weeks)

Course Lessons

Trial Closing is a Key Element of your Sales Process, understanding this will generate more income and more sales.

Trial Close – Worksheet

Use this Trial Close Worksheet in your training to help hone your skills. Remember that you must Practice to get Perfect and Perfect Practice makes way for a Perfect Sale.

Trial Closes - My List

Use the On-line version, My List - Trial Closes, to keep a record of your list of Trial Closes, add as many as you need and Review Often.

Quiz

This quiz will test your knowledge on Trial Closes, what they are, how & when to use them and to determine if you can move on to the actual closing of the sale.