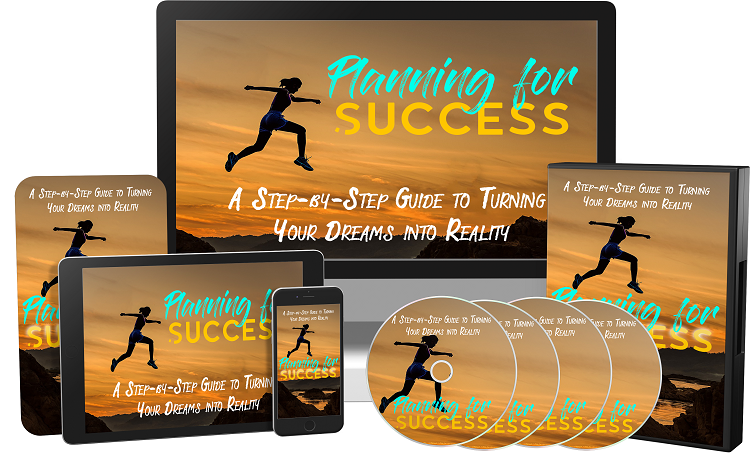 Planning For Success – Video Course
No matter what kind of person you happen to be, you can succeed and you can achieve your dreams.
No matter how difficult it might appear, there is nothing that you can't do!
This is a step-by-step guide to turning your dreams into a reality. You will learn the key to stay more motivated in your plans and you are going to be handed all of the tools that you will need in order to become a success.
This is the next best thing to having an expert on the subject, right beside you, showing you how it's done.
Of course, hiring an expert would easily set you back hundreds of dollars. Luckily, you're not going to have to invest anywhere near that today to get the next best thing.
Not only will you avoid many of the most common mistakes that people make when trying to Plan for Success, you'll notice immediate positive results in your achievements…
If you're a visual learner or prefer to be shown something as opposed to just reading about it… you need this special video upgrade to get the best results possible.
Topics included:
Step 1: Know Where You Are Going by Visualizing Your Goal
Step 2: Getting to Know Your Strengths and Weaknesses
Step 3: Taking the Time to Take Action
Step 4: Holding Yourself Accountable for Your Success
Step 5: Setting Realistic Goals
Step 6: Carving Out the Time to Process and Regroup
Step 7: Taking Action and Evaluating Your Progress
Step 8: Learning from Failure and Letting Go of the Past
Step 9: If at First You Don't Succeed, Try, Try Again!
Step 10: Acknowledging When Something isn't Working and Moving On
Step 11: Staying Motivated
Course Contents:
13 Videos
1 Quiz
11 Questions
Audio MP3 Version of the course
Certificate of Completion

Planning For Success - Video Course

Planning For Success - Audio Version

These are the audio version of the Video Course for those that want to hear just the audio at any time.