Features
12 Videos
Complete Course Guide - Online Flipbook
Complete Course Guide - Audio
Certificate of Completion
Lifetime Access
Target audiences
All Sales People
All Level Sales People
Managers
Trainers
Introducing
Wired For Greatness
How To Start Living A Legendary Life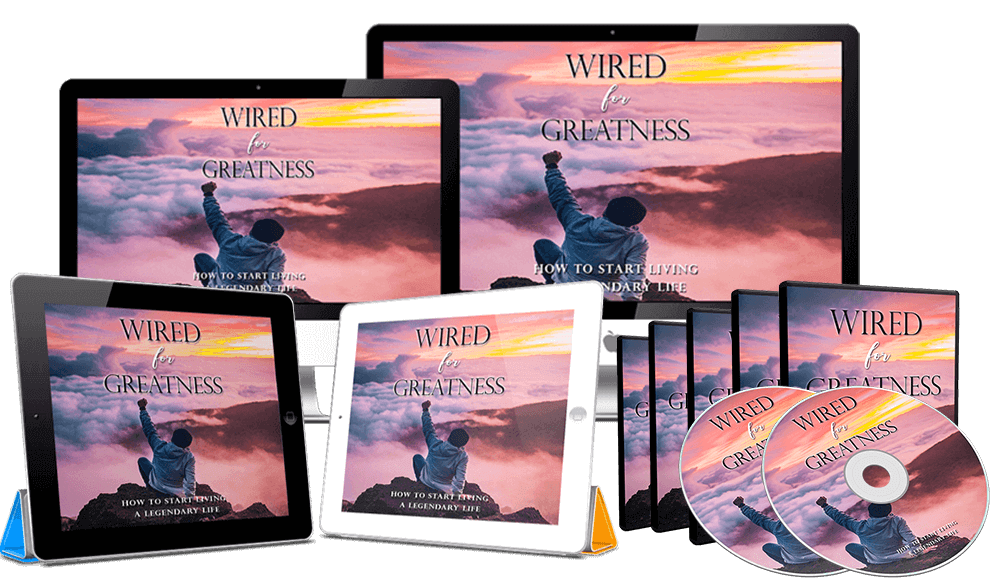 'Wired For Greatness' is the ultimate guide that shows you how to re-wire your brain for greatness.
You'll discover that greatness can be cultivated by anyone with the right strategies. With this guide you can take the first step to live your own legacy!
Greatness is not necessarily about becoming extremely wealthy, red-carpet famous, or creating world-changing impacts.
Greatness is about achieving excellence in important areas of your life. Your career, personal relationships, or business.
Here is what you'll discover:
What is a legendary life and how you can start living one.
How to spot where the problems are in your life and how to design a plan for change.
How to improve your physical health.
How to improve your mental health.
How to recognize negativity in your life and how to take steps to avoid it.
How to change your attitude for the better.
How to identify your own talents and recognize how you can use them to benefit yourself and others.
How you can change your mindset to embrace positivity.
How to recognize the things that matter most in your life.
How to be true to yourself so you can exploit your full potential in all aspects of your life.
This is the Golden Key for those who want to:
Live life on their own terms
Achieve excellence in all areas of their life
Upgrade their life to the next level
Go from ordinary to extraordinary
Develop unstoppable confidence
Rewire your brain and settle for nothing less than greatness
Video 1: Introduction

Duration: 1:25 min

Video 2: Awareness And Planning

Duration: 5:17 min

Video 3: How To Invest In Your Physical Health

Duration: 6:02 min

Video 4: How To Invest In Your Mental Health

Duration: 7:36 min

Video 5: How To Let Go of Negativity

Duration: 8:18 min

Video 6: How To Adopt The Attitude Of A Winner

Duration: 8:22 min

Video 7: How To Find Your Place And Purpose

Duration: 2:50 min

Video 8: How To Embrace Positivity

Duration: 3:57 min

Video 9: How To Dedicate Time To What Matters Most

Duration: 4:19 min

Video 10: How To Build Others Up, Don't Tear Them Down

Duration: 1:34 min

Video 11: How To Be Yourself

Duration: 3:12 min

Video 12: Conclusion

Duration: 2:51 min
Because I want to help more people like you to maximize your true potential, upgrade your life to the next level, and achieve mastery in areas of your life.
And I believe Wired For Greatness video upgrade can help you achieve all those in the shortest amount of time — compared to just reading the book alone.
You can get instant access to
Wired For Greatness
Video Course
and All the Bonus Materials