Description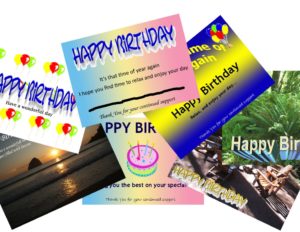 Birthday eCards Package – 36 eCards
This package contains 36 Birthday eCards for you to send your customers.

Send them using:

Everyone loves getting some sort of acknowledgement on their Birthday, what a great way to stay in contact and let your customers know you care.

You can use these eCards in any way you want, you can even use them in any print documents or letters that you may want to send out.

The eCards can be used over & over again making this an absolute great value for you.
Package Contains 36 Birthday ecards
Custom Birthday eCards
Package of 36
---